The full-time educators of Trackers Portland includes experienced skills instructors on the leading edge of place-based education. We are a family of professionals who's goal is superlative competence in our field.
Tony Deis Founder
Codenames Boss
Place of Origin Eugene, Oregon
Team Affiliations Trackers Earth
Superpowers Tracking, Operational Logistics
Origin Story To Tony, learning about nature goes beyond education, it is a timeless discipline and art. The large Italian family he grew-up in proved the greatest influence on his core philosophy—individual growth must give value to family, community, and the land. He went to college, got a degree. But the most important part of his education was when he left high school at 14 years old to go explore and train in the wilderness: awareness, forest craft skills, primitive skills, and tracking.
This, coupled with over 20 years of extensive work and cutting edge development as an educator and consultant in outdoor education, lead him to found Trackers Earth. The goal, go beyond camp. The result, an organization that serves over 16,000 students as of 2015. He is also a high end consultant for other outdoor education organizations concerning their safety, organizational, and outreach policies. In his free time, Tony enjoys exploring the wilderness near his home, tracking two different bobcat, one particular bear, that certain herd of elk, and handful of deer with his son, Robin, and daughter, Annie in the lead.
Molly Strand Deis Founder, Registrar and Youth Instructor
Codenames High Elf Queen of Admin
Guild Wilders Guild
Place of Origin Salem, Oregon
Team Affiliations Willamette Falls Symphony, Central Oregon Symphony, Davidson College, Swirves Utopia (online text based game), The Goats at the Trackers Homestead
Superpowers Raising Children, Milking Goats, Puttering in the Garden, Online Gaming, Finding Treasure, Sci-Fi Nerddom, Admin, Cheery Phone Conversations
Origin Story A native Oregonian, Molly received her Bachelors degree in German from Davidson College in North Carolina and spent a year in Germany, also traveling throughout much of Western Europe. She spends her time between Portland and Sandy, where she and her husband (Tony) live with their two children. She keeps busy herding goats, wrangling chickens, planning gardens and wandering the woods with babes in tow.
Molly is also an avid cellist and plays in the Willamette Falls Symphony. One of the "voices of Trackers" you probably spoke with her regarding any one of the Trackers programs. Molly and Tony have two children - Robin and Annie.
Daniel "Otis" Brophy Portland Site Supervisor & Youth Instructor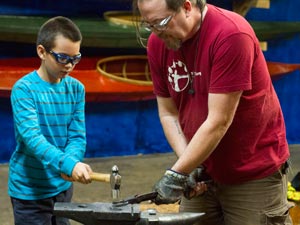 Codenames Otis, Otto von Wendijoss, Xon the Ork wizard, Onteberon the Dark, Agent Oddjob, Sensei Sito, Gamemaster, Chronomechanic O, Agent Harbinger and Mutant
Guild Artisans Guild
Place of Origin SoCal SD, Larch Mt by age 5
Team Affiliations Trackers, Toxic Youth, Game Geex, Orkish Kingdom, SCA, DeathStroke, and the Brophy clan
Superpowers Vehicle Mastery, Costumes, Reality Bender
Origin Story Dan Brophy, a happily married father of 2, comes to us from the wilds of Larch Mt. WA, where he spent much of his youth reading Fantasy novels, exploring the woods and playing Knights of the Round Table with his compadres. Learning the ways of the D20 he began gaming in '81 and never looked back. Ever pursuing his love of fantasy, costuming and adventure Dan soon found the global village known as the Society for Creative Anachronisms, the world's largest medieval re-creation group. For 18 years Dan studied and participated in the arts of combat, period living, costuming, archery, event organization, medieval theatre and more.

Philosophy Dan also brings his abilities to teach youth and children through compelling stories and experiences built on the basis of mutual respect between teacher and student. This is a result of years spent as a camp counselor, youth group leader and game store owner. This rare combination of gamer geek and outdoor survivalist has created an instructor with one foot planted in reality and one foot planted in fantasy who creates an intriguing, educational and above all, memorable camp experience for your child.
June Jacobson Regional Overnight Director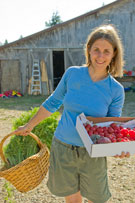 Codenames Doc
Guild Wilders Guild
Place of Origin Michigan with extreme pride
Team Affiliations Portland State University, Multnomah County Outdoor School, Trackers Earth Founding Community Member
Superpowers Great Food, Gardening Brewing Great Wines, Green Burial (Masters Thesis)
Origin Story June grew up playing in the mosquitoey wetlands and farm fields around her family's Michigan homestead. In the summer, her Mother and Grandfather wrangled the family into the gardens to harvest and preserve veggies for the cold midwestern winters. Her stomach still growls when she thinks of her Dad's fruit orchard and Mom's fat gooseberry bushes.
She moved to the Northwest in 1997, after receiving her Bachelors in Education from Michigan State University. Her deep appreciation for Oregon's wild lands and for the people who care for them, began during her long tenure with MESD Outdoor School. She led kids along the banks and forests of the Sandy River for seven seasons before going back to school. During graduate school, she met the brilliance of Trackers, including her Tracker husband David, and in 2005 started instructing overnight camps.
It was during this new Trackers tenure that she began to realize how truly "hands-on" education could get. It became a chance for both youth and adults to participate simultaneously in real work, real play, real risk and reward in relationship, and real learning about how we can and do affect the land we live in. Trackers instructors and kids used their whole bodies, minds and more to better understand the land and themselves. All this while evading Orcs or defending the village from evil wizards!
She received her Masters in Educational Leadership from PSU's Leadership in Ecology, Culture and Learning in 2006. She played many different roles for Trackers since that time, while running a small CSA in Deer Island and teaching Capstone classes for PSU. She stepped into the role of Youth Program Director for Trackers in March 2010 and is grateful everyday to work with such a creative, fun and conscientious staff. It is with these folks that she is able to see her ideals in education come alive.
Travis Southworth-Neumeyer - Hand of Trackers
Codenames: The Hand
Place of Origin: Zenia, CA; Eugene, OR
Team Affiliations: Portland Village School, Mount St. Helens Institute, OMSI, Portland State University, Lewis and Clark College
Superpowers: Budgets, Human Resources, Logistics, Kayaking, Rafting, Sailing, Backpacking, Home Remodeling, Horses, Game Mastery, Gardening, Parenting

Travis has led and directed outdoor and education programs for over 18 years. Prior to joining the Trackers, he ran the Mount St. Helens Institute. Prior to that, Travis worked with Trackers as a consultant focusing on programming, and with non-profits on grant design and grant management. Travis was the Director of Outdoor Science Education and Classes at the Oregon Museum of Science and Industry for 6 years. He has served a Peace Corps Volunteer in southern Africa, teaching young people how to talk about hunting and subsistence farming in English so they could pass tests. Travis has worked as a classroom science teacher and an outdoor adventure guide leading backpacking, snowshoeing, rafting and sea kayaking trips, including wilderness therapy trips with feisty and amazing teenagers. Travis has undergraduate Biology degree from Lewis and Clark College and a Master's in Education Leadership with a focus on sustainability education and outdoor program management from Portland State University.
David Jacobson He Does Something with Trackers (we're not exactly sure, probably budgets or something, and he sometimes teaches tracking... yeah, that's it)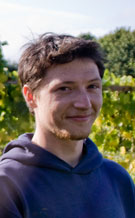 Codenames Snake Eyes
Guild Rangers but wannabe Wilders (for the bacon)
Place of Origin McMinnville, Oregon
Team Affiliations The bear that hangs out in his backyard
Superpowers Tracking, Stealth, Eating Bacon
Origin Story David enjoys eating good food and draws from his background in botany, wildlife ecology, and wilderness living skills in order to eat well on our programs. Combining urban, and wilderness foraging strategies he assists students in learning to create crawfish stew and wild crafted meads. David also graduated with a BS in Botany from the Evergreen State College. During his time as a "Greener" he took it upon himself to do extensive independent study contracts in pressure release study and other aspects of tracking and natural history.
Philosophy One critical aspect of David's educational philosophy is his attentiveness to safety of students and the requirement that every lesson needs to functional. "I will never ask a student to do something that does not have a real purpose. We learn about tracking to actually find the animal, not simply as an academic study".
Chris Cordino Admin and Office Camp Instructor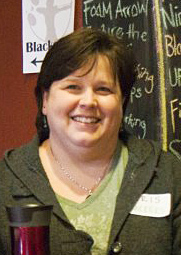 Codenames none
Place of Origin Eugene, Oregon
Team Affiliations Trackers Earth, Office Camp

Superpowers Organization, Admin, being a mom, cooking, baking
Origin Story Chris joined Trackers full time in 2012 after 17 years in the credit union world. She has been involved with Trackers off and on from the beginning and was thrilled to be able to be part of the community full time.

When she isn't processing registrations or assisting parents and staff, she enjoys camping, baking, cooking and hanging out with friends and family. She is actively involved in her daughters school and a strong supporter of her husbands ultra marathon running.
Kelsey Reed Regional Director & Youth Instructor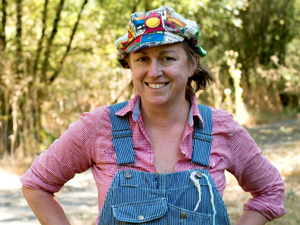 Codename Biscuit
Guild Wilders Guild
Place of Origin Beautiful Bakersfield, California
Team Affiliations Centaur Ropers, The Golden Girls
Superpowers Land Shark, Snarky Wit, Defusing and Eliminating Unhappiness, Chicken Wrangling

Origin Story Grew up in on two urban acres in Bakersfield, California, running amuck with two older brothers and trying to be like them, raising ducks in her backyard, and feeding deer and fishing in her grandparents' backyard in rural Texas.

She developed a love for pioneer life from Little House on the Prairie, and showed Quarter horses throughout junior high and high school. She received a degree in Educational Studies from the University of Oregon, spending six months studying abroad in San Sebastian, Spain.

After a stint working at a school for kids with disabilities in Sacramento, she stumbled upon an amazing opportunity to run educational and cultural camp programs at an international school in Chiang Mai, Thailand and embarked on a life changing year living and working in Southeast Asia. Working mostly with students visiting Thailand, she lead them through community service projects, jungle hikes to hill tribe villages, elephant rides and orphanage visits, opening her eyes to the possibility of education out of doors. She taught third grade English and Science in Guayaquil, Ecuador for one year, but it would be the year in Thailand where she would realize the outdoor educational program life was for her.

So she took to Australia, obtaining a Graduate Diploma and Teaching Credential in Humanities and Outdoor & Environmental Education, leading college students through the back country of the Australian Alps, rock climbing, kayaking and studying sustainability education.

A while after moving back to the states, she kept looking for more jobs and opportunities to move back overseas, until she found Trackers; now she feels like she is truly home. Not only would they entrust her to take kids into the wilds, but they would allow her to finally find people to appreciate the dedication it takes to own all of the Golden Girls DVDs.

The community that Trackers creates and the invaluable curriculum they teach feeds her soul and reminds her daily of why she went in to education.
Philosophy With a holistic view of education, she feels that it should be in, about and for the environment. Sustainable education is going to give young people the tools in which to start a paradigm shift necessary in today's world. Getting kids outside and teaching them about the wonderful world that lives out their front door awakens their senses and ability and desire to learn new concepts. Education should be experiential and give children and adults alike the opportunity to be an active part of it, not just be a vessel in which to dump information. Teaching them real skills that are transferrable to life makes it relevant to them. Trackers allows all of these parts to come together to create a rich educational program in which staff and participants truly believe.
"What is the use of a house if you haven't got a tolerable planet to put it on?" - Henry David Thoreau
Brian Schuch Primitive Skills Specialist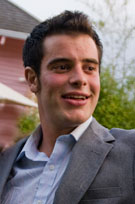 Codenames Shook, Shook
Guild Rangers Guild
Place of Origin Cincinnati, Ohio
Team Affiliations Hawk Circle, Awaken the Hearts
Superpowers Flintknapping, Bowmaking, Living From a Backpack, Extreme Makeovers
Origin Story Brian Schuch has been traveling, living, and teaching wilderness survival skills since 2003. He's taught in many settings including public/private schools, workshops, private residences, camping trips, nature centers, museums, for a documentary, independent contracting and more. He's worked and lived primitively in many environments including the jungles of Costa Rica where he built and resided in a bamboo tree-house for many months. The natural world is a never-ending source of beuaty that drives Brian's passion. His main teaching goal is to show that we can live in an area and increase it's carrying capacity for all life, not just our own. And that if we take without giving back, we may run out of resources. To Brian, the first step is about understanding how the natural world works and our impact on it.
Brian grew up in the suburbs outside of Cincinnati, Ohio. As the last year of high-school was starting, he was exposed to a school that taught wilderness survival skills. From there he went straight to Hawk Circle Earth Mentoring Institute where he took a year-long immersion program and delved heavily in primitive technology. The skills Brian developed taught him how to live with the woods and take care of all his needs and wants. After completing the course he stayed for another year learning and teaching school groups and summer camps. During that time he also worked at a museum to recreate and demostrate skills of indegenious technology. This included building a bark longhouse, bark canoes, dugout canoes, bows, arrows, 3 sisters gardens, maple sugaring and more.
Brian eventually discarded all possessions other than his clothes. He spent his time traveling, living, and teaching around the country. The skills he honed enabled him to travel light. Brian made anything he needed. His backpack was a small, brain-tanned deer bag. This life change came unexpectedly and gave many surprising gifts: including true freedom, a love for life, a sense of place in the natural world, a better understanding of himself and his limitations and most importantly a realization of how relevant community and family are. He realized you can have everything in the world, but with no one to share it with, it becomes meaningless. Brian often says that the most important value is that purpose your life should further your family and the earth.